SEO, or search engine optimization, has fundamentally transformed the way that companies manage and maintain their digital presence in the modern globalized economy. With the power of Google to direct potential customers to your business entirely based on your relevance to key search terms around your operations, knowing your SEO strengths and weaknesses is a must to keep up with your competition.
While the value of a good SEO strategy can't be understated, the difficulty crafting an effective SEO strategy lies in learning how to balance keyword targeting and site architecture principles with maintaining a focus on branding and customer experience. Some businesses can slip up in devoting all of their content to attempting to game Google algorithms, leading to obviously keyword stuffed landing pages and other content that simply won't seem authentic to new and returning users.
So how do you learn to balance SEO considerations with keeping your web presence branded and customer-serving? How do you identify the SEO needs and opportunities in the first place, in order to craft a broader SEO and content strategy that will use your resources most effectively? It's best to start at the beginning, which in the case of SEO, starts with conducting a site audit to evaluate your current strengths and weaknesses. For the first edition of SEO 101, let's explore how to run a site audit on your web presence.
What is a site audit?
A site audit is a process that involves using technology to evaluate page performance prior to undertaking large-scale SEO or website redesign. Performing a site audit can help you determine whether or not your existing landing pages, site content, and site architecture are offering you the best opportunity to achieve organic search traffic goals, and if not, how you can improve it to increase performance.
It's also important to remember that Google regularly indexes websites (which is how specific landing pages become included and retrieved in Google search results), which means that optimizing your site isn't just about creating a bunch of new pages when existing ones may already suffice. A site audit can help you separate areas of strength (which may need no changes, or simply some cosmetic fixes) from areas of weakness or opportunity, such as a landing page for a particular service your company provides that relates to a keyword generating significant traffic in search volume.
Benefits of auditing your website
While broadly a site audit is about gaining a better sense of how your website is positioned in Google search results, there are numerous specific benefits for performing one as well, including:
Keyword performance – the bread and butter of SEO, a site audit will collect data on how your site is placing for keywords from Google and other sources and aggregate it into a single dashboard. This gives you a comprehensive snapshot of what keywords your site's pages are ranking for, the amount of traffic being driven to your site by specific keywords, and related keywords that you may not have even considered. This also helps you identify places where future content should focus, such as centering blog post topics on a keyword you aren't ranking well for yet.
Technical performance optimization – long loading times for landing pages, internal links that don't connect logically, or duplicate pages are all elements that people often overlook when considering how their site is optimized for SEO. A site audit can assess the technical structure and performance of your website, providing you data on opportunities for your developers to clean up code and back-end integration for improved performance for visitors and thus, better Google search placement.
Competitive analysis – in addition to identifying opportunities for your own website, site audits also perform website monitoring processes to help you gain a snapshot of your competitors' SEO positions in relation to your own. This can both show you areas where you are competing directly for keywords, as well as identify opportunities to get ahead of the competition and keywords that may be easier to place for, due to lack of competition.
Backlink and internal link evaluation – another critical tool of a site audit is developing a comprehensive picture of all existing links (both internal and backlinks) on your website at the moment. This can help you identify high-value backlinks from other websites that are generating significant traffic for you. It can also be key for identifying broken links and damaging links from untrustworthy sites that you will want to disassociate from your domain, as these can negatively impact your search engine placement.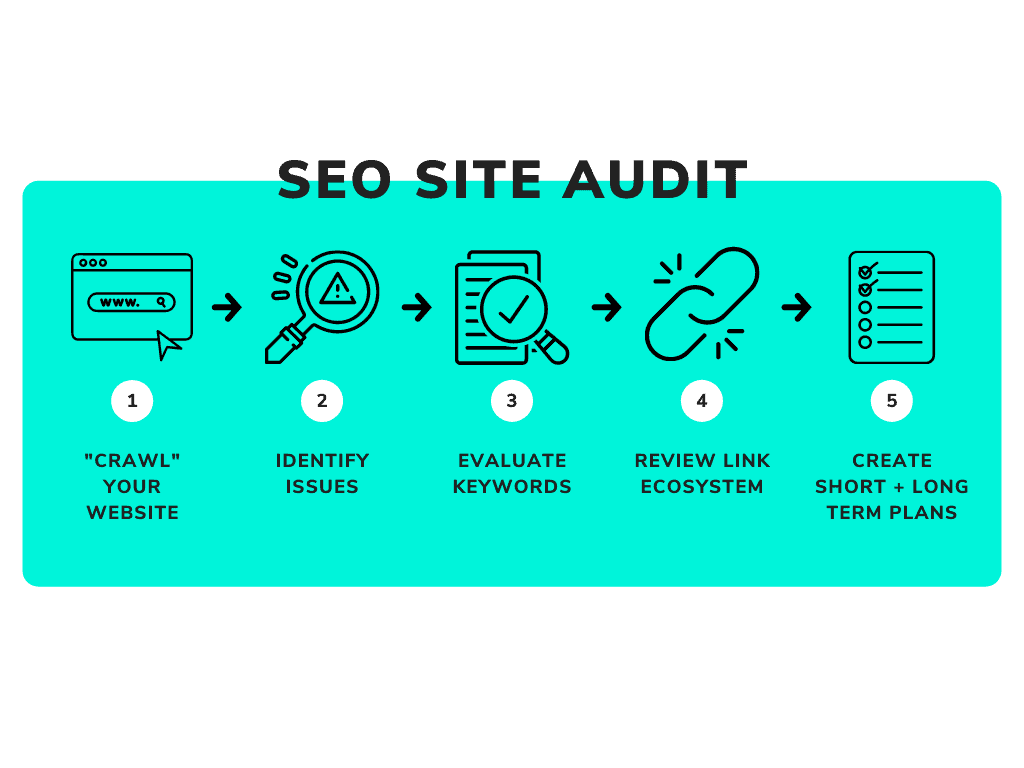 How to run a site audit
Step 1: Choose a site auditing tool and enter your site URL to "crawl" it
The first step to run a site audit is to choose an effective site auditing tool to evaluate your website in all the areas noted above. There are plenty of options available for doing so, such as Ahrefs, Moz, and Semrush. To choose the right tool, you should examine these platforms and compare what site audit features are included in different subscription tiers (or for free), and identify the best combination of functionality and affordability for your needs. Once you have created an account, you will then be prompted to enter the URL you wish to audit and perform a site crawl. This will take a little time, but will perform all of the evaluative functions noted above and deliver a report to you to review.
Step 2: Review the technical side of your site audit to identify performance, UI, and architecture issues
With your development team or manager, you should first review the technical side of the site audit to learn about existing design weaknesses that can be tackled by your developers. This might involve areas with faulty or messy code, opportunities for better integration with your database, or other common architecture issues. By starting here, you can add to-do items to your developers' lists and fix these issues first before focusing on the content.
Step 3: Evaluate your current keyword placement, as well as growth opportunities
Next, with your content team, you will want to examine which keywords you are currently placing for and areas where you are underperforming. This can help you understand your most valuable and trafficked landing pages and blog articles (to inform future content creation), but also high-volume keywords that you are currently missing out on. Importantly, as you consider new keywords to target, a site audit will also let you know the competition level for those keywords. While the highest volume keywords will obviously deliver you the most traffic, targeting lower competition but still-relevant keywords can help you capture aggregate traffic that may be a better use of your resources.
Step 4: Review your link ecosystem
Another item to review as a team is the current landscape of links to and from your website. The site audit tool will deliver a global picture of links and their value, as well as harmful links that you will want to don't-follow or otherwise remove to better improve your site reliability as it appears to the Google search algorithm.
Step 5: Create both short-term and long-term plans for moving forward in all of the above areas
The final stage of a site audit is the most important – using all of this valuable data to inform your content and development strategies in the future. A good idea is to strategize in both the near-term (say, the next month) and long-term (a year out or more) to better spread your limited resources. Work with your content team to identify the best keyword opportunities and prioritize short-term content development around those topics, even if it means back-seating previously planned topics. Likewise, work with your development team to triage your technical issues and get the most pressing fixed immediately.