Our Top 3 Uptime Monitoring Tools and Softwares
Investing in an uptime monitoring tool helps you save money in the long run
Whether you run a website of your own, or rely on a specific website for your profession, finding out a URL has gone down can cause considerable losses in revenue and accessibility, or deny access to the critical information you or your users rely on. Uptime monitors let you constantly check your site(s) to see if they are up and running. There are a few common use cases for uptime monitoring:
Notify you immediately if your business page goes down, to ensure minimum lost revenue and/or branding
Let you know if any of your pages are experiencing connectivity or coding issues – especially important when communicating with developers who are pushing changes to your site
Give you early warning on potential security breaches or attacks on your page
You can think of your marketing site as the lifeblood of your business. It helps you market your product, connects you with customers, and helps you establish your brand. You can imagine that if someone is coming to your website for the first time, and it is not operational, you are giving a bad first impression to potential users or customers. It could result in the loss of customers and revenue. Potential reasons for the website to be down would be:
DDoS attacks – distributed denial-of-service attack is an attempt to disrupt the normal traffic of a targeted server, service, or network by overwhelming the target or its surrounding infrastructure with a flood of Internet traffic.
Server overload – if your website is hosted on a shared server, whenever there is a huge surge in traffic to either your site or another site on the same server, this could crash the website or disable some functionalities.
Hardware and software failures – power failures often cause major outages across the world. If your site is hosted on WordPress and you are using some older and outdated versions of plugins and themes, this could cause your website to go down.
Human errors – incomplete code reviews, improper dealing with servers, etc.
There are ways of monitoring websites for downtime, and receiving alerts in case that happens.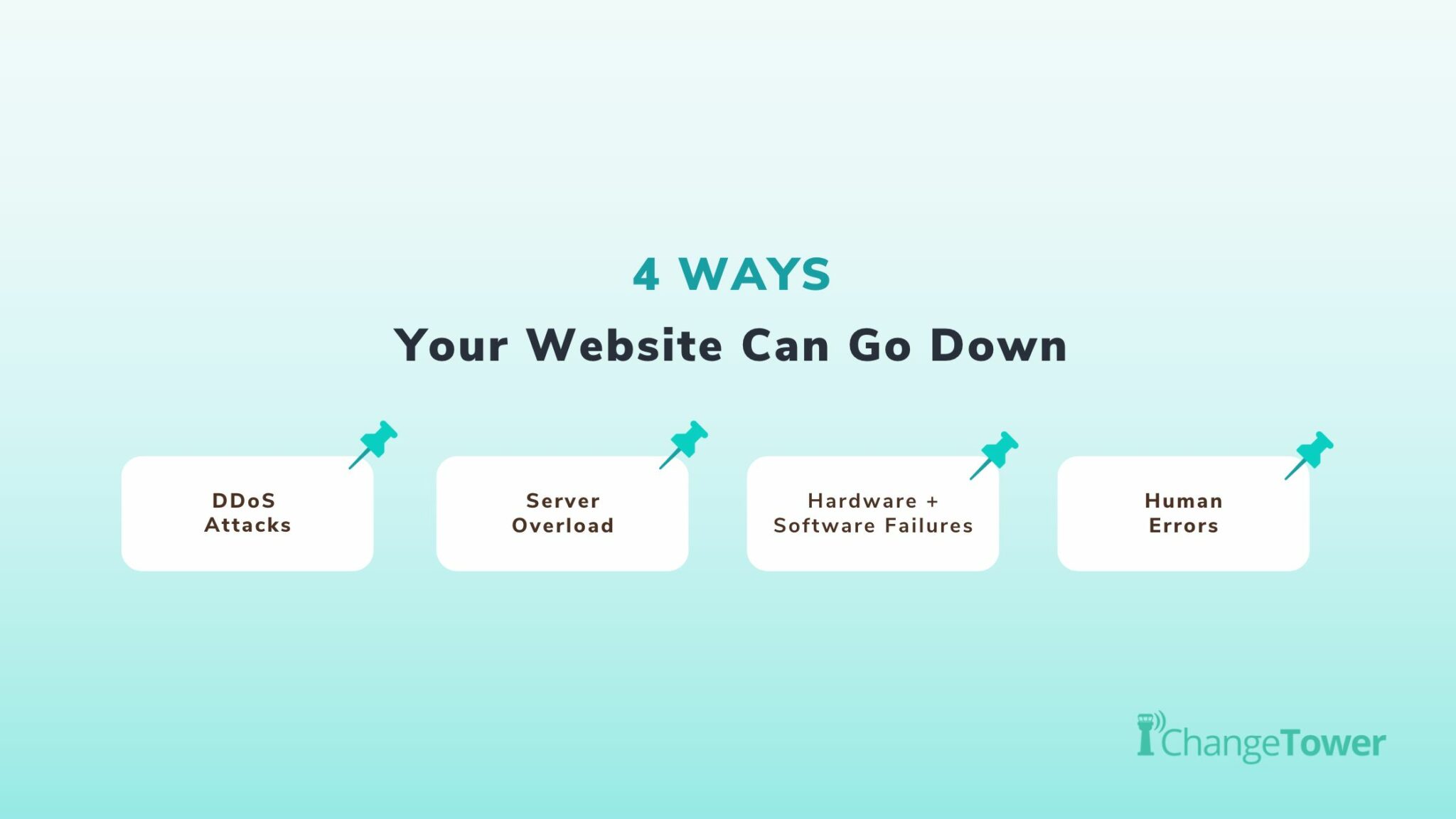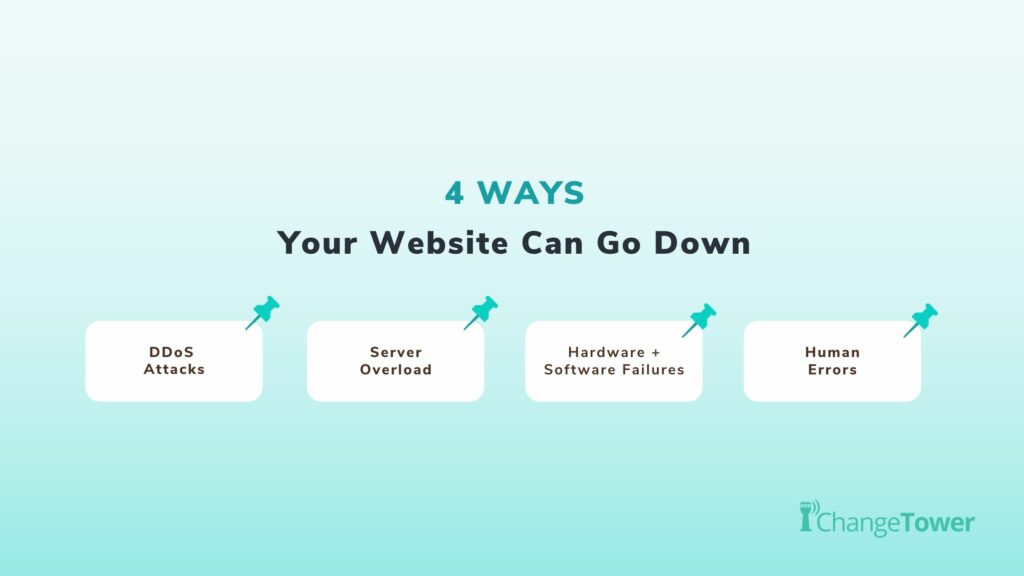 ChangeTower staff reviewed several uptime monitoring tools, and here are our favorites:
It's not a surprise that Sematext Synthetics made it to the top of our list. This product lets you monitor the availability of your website from multiple locations, private networks and behind firewalls. It can also monitor your SSL certificates and your APIs and on top of that offers robust dashboards, customizable reports as well as detailed incident reports. You can receive alerts via email, Slack or webhooks. Their 14-day trial gives you plenty of time to decide whether you want to move forward with this tool, but if you indeed decide to subscribe to a premium plan, you can customize your plan and "pay as you go" or immediately buy one of their retail plans.

Around for many years, Pingdom is kind of a champion in this industry. The product is simple to use – a Pingdom monitor can be set up in less than 3 minutes! Alerts can be received via email, Slack, SMS or even push notifications on your phone. Monitoring is done from over 100 locations around the world and in case of an incident, they run additional tests and perform a Root Cause Analysis, allowing you to establish what went wrong and minimize the time spent on issue resolution. For every incident, you can run a traceroute of the issue, identify the output from a web server and examine server response codes. Pricing starts at $15/month and before committing you can take full advantage of their 30-day free trial.

Hyperping is a newer option, but they are quickly rising to the top. They offer worldwide coverage, logs of each check, and in their own words, automatically double-check with 3 more servers when detecting an error to confirm an outage. They also do SSL certificate monitoring and send you reminders before the certificates expire. Updates are sent via email, Slack, SMS (and many other tools). They offer a 15-day free trial, but also have a free offering. Paid plans start at $14/month. And a notable mention goes to their customer support!
What about ChangeTower?
While ChangeTower is best optimized for a variety of other use cases, we also offer basic uptime monitoring – if you'd like to check out our offering, you can do so by following the steps below:
Create a new monitor (click on the "New Monitor" button in your left navigation menu)
Select the Visual Monitor type
Enter the URL you'd like to monitor
Select the part of the page that you'd like to monitor (Hint: The visual monitoring tool looks for changes to pixels on the given page, and if the page goes down, all pixels of that page will change. You can select the arbitrarily small area of the page to monitor, and set the change threshold. We'd recommend a small monitoring area, and a large change threshold)
Finally, select the monitoring frequency, (optionally) enter the monitor name and tags and edit email notification preferences. You can also opt to receive push notifications on your iOS device.
Your monitor is now set up. If you opted to receive email notifications, if a change to this monitored area has been detected, we will send an email. You can also choose to receive emails directly to your Slack workspace.