Receive website change alerts directly to your Slack workspace
Follow these simple steps to combine the power of ChangeTower and Slack to receive website change alerts easily
When Slack was first launched back in 2013, the idea of using a centralized messaging system hadn't been around for too long. Why? Organizations and businesses didn't even know they needed one. Instead, they used different methods and tools to communicate – emails, SMS messaging, Skype for online meetings, etc.
How did Slack earn the title of your company's digital headquarters? By identifying that there was a problem, they also marketed themselves as a solution to the problem you didn't even know you had. And how did they become the fastest-growing B2B startup in history? They continuously (and almost obsessively) listened to user feedback and quickly implemented the requested features.
Now it's almost impossible to imagine a workday without Slack. From sending reminders to huddles and video calls – the options are endless! Thanks to its convenient way of storing conversations and separating communications into different channels, companies and organizations are looking for ways of automatically forwarding their emails to Slack so they can always stay on top of their work. In this article, we are going to talk about ways of receiving website change alert(s) from ChangeTower directly to your Slack workspace.
How do I set up the integration between ChangeTower and Slack?
To receive alerts to your Slack workspace, you will need to either create a new channel or find an existing one. You can also receive website change alerts in a private conversation with your teammate(s)!
Create an email address for the channel or the private conversation. Open that channel/conversation on your desktop, click the channel or member name(s) in the conversation header and then click on the Integrations tab. Select 'Send Emails to this channel or conversation' option.
Copy the email address Slack generated for you.
Sign up for a ChangeTower account using the email address generated in the previous step. If you already have a ChangeTower account, you can change the email address associated with it from your Account Settings page. You can also set up automatic email forwarding from your inbox to Slack.
Verify your email address – you will receive the verification email to the Slack channel. This way, you will confirm the integration is working.
Start creating your monitors! In the final step of the monitor creation, opt to receive email notifications. This way, instead of getting lost in your email inbox, once a change that meets your criteria has been detected, the website change alert will be sent to your Slack channel or conversation, and you can go and review the detected changes from there.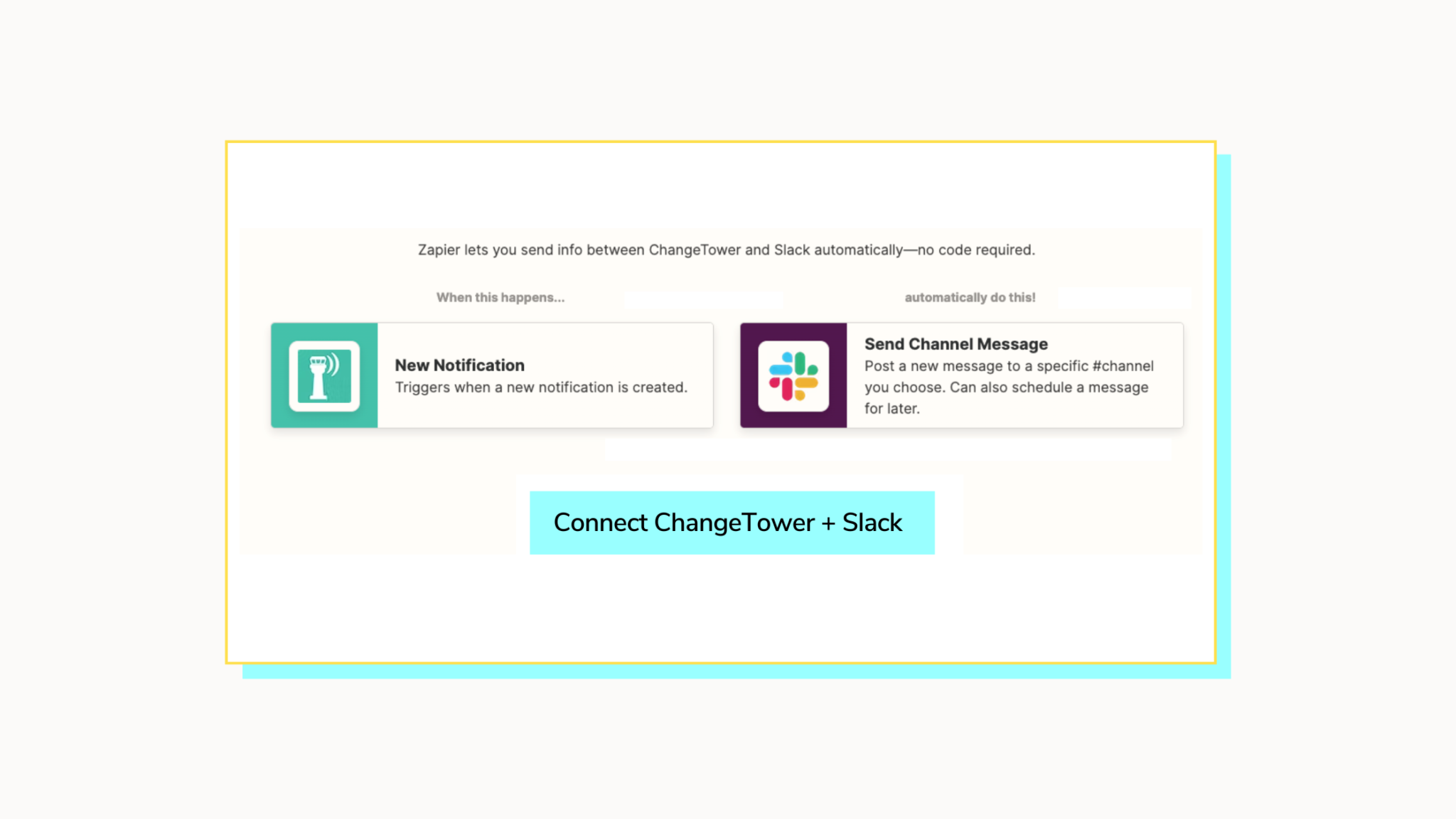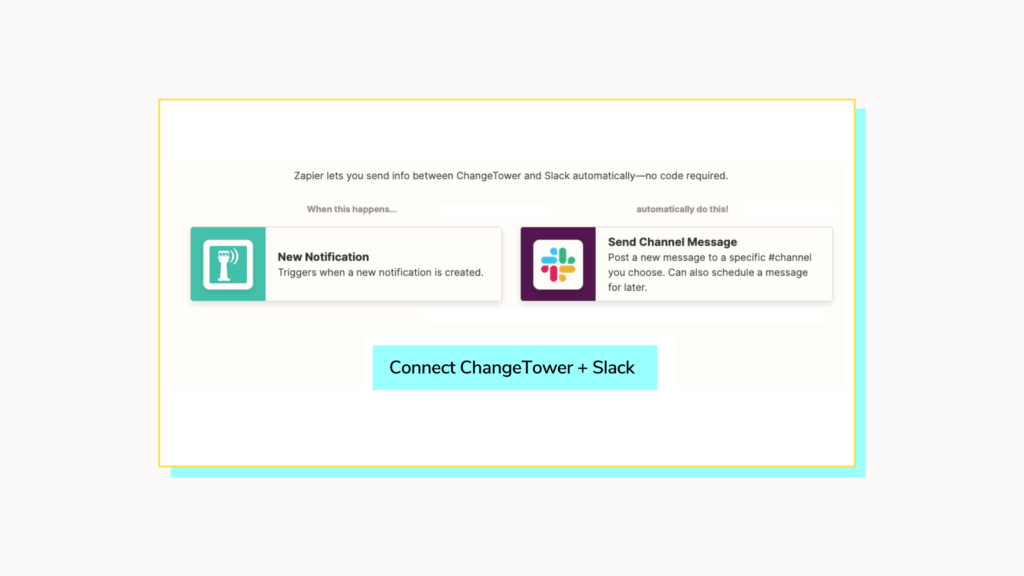 Receive website change alerts using ChangeTower and Zapier integration
Zapier allows you to automate tasks and workflows between apps that wouldn't be possible otherwise. ChangeTower integrates with Zapier to help you automate the tasks, driven by a website change alert. You will find your API token on your 'Account Settings' page: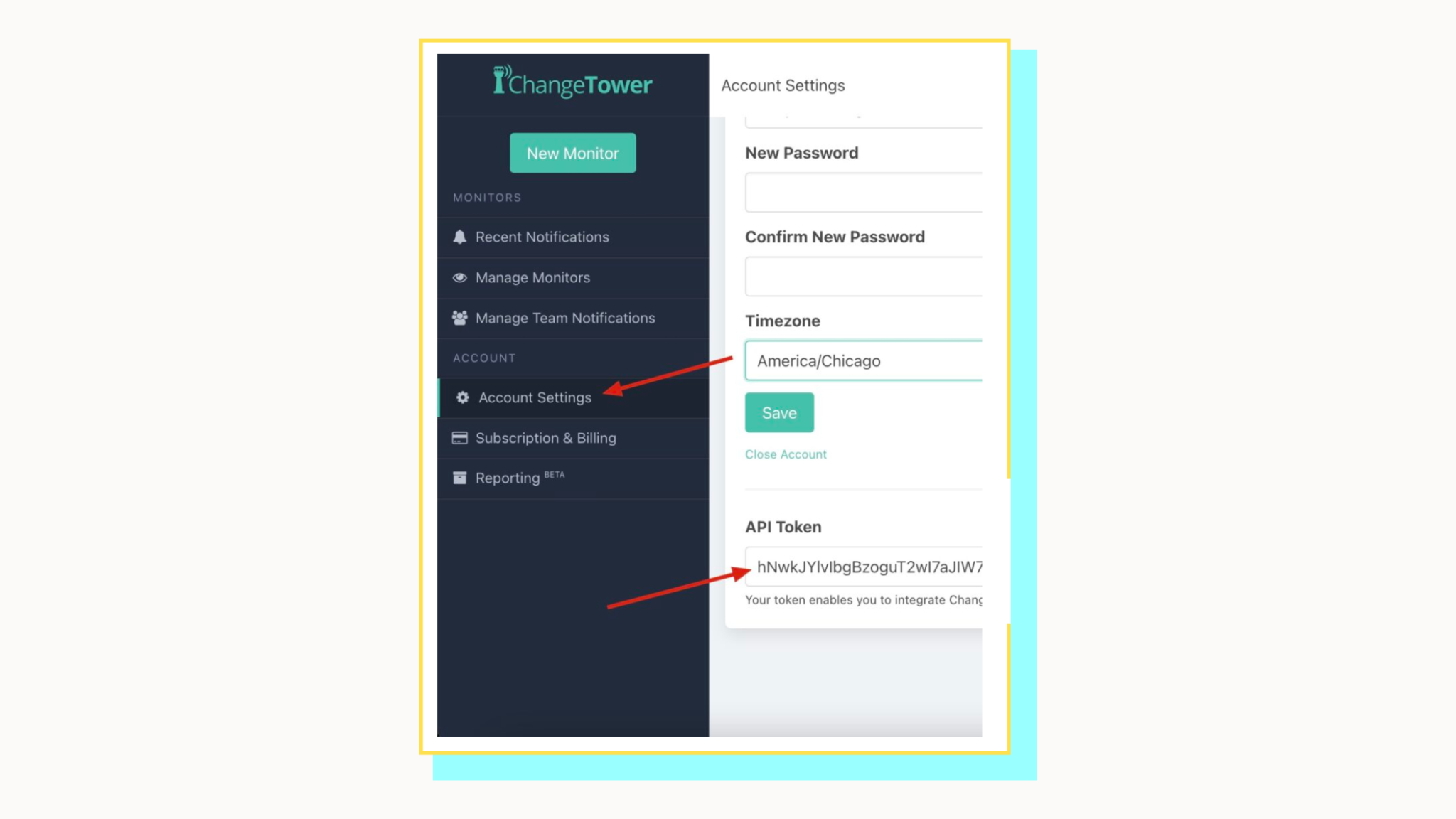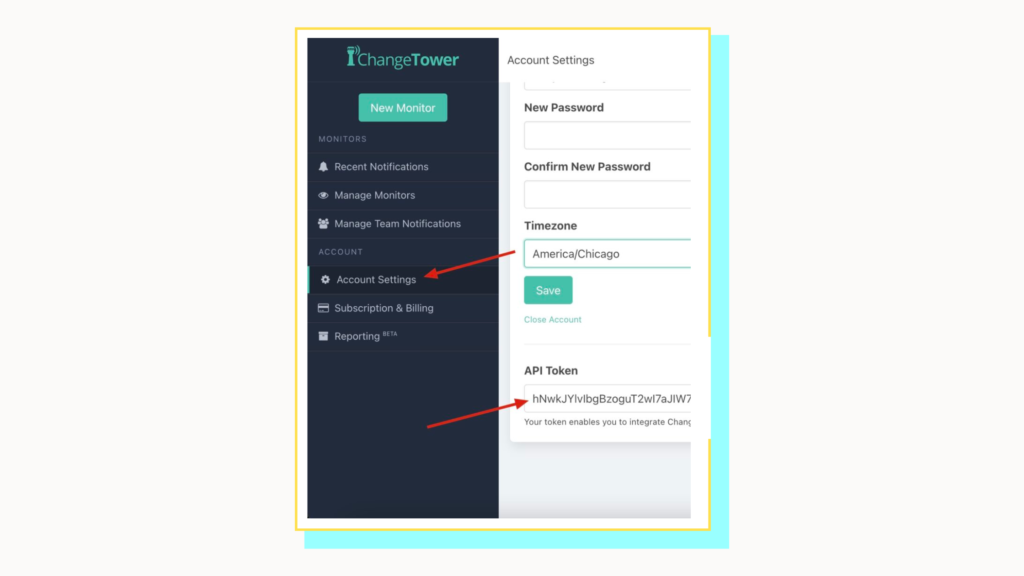 Go to your Zapier account and connect these two accounts using the API token and start creating workflows. Use ChangeTower's new notification option as a trigger.
Select a pairing app where you want to receive notifications. Common apps would include Slack, SMS by Zapier and Discord but you can find the full list of integrations here.
Once you have set up your Zap(s) and a change that meets your criteria has been detected, ChangeTower will send the website change alert(s) to the app of your choice.