The Best Tools to Monitor for Website Changes, Uptime, Performance, Malware, SEO and More
There's a variety of critical website change monitoring tools that should be leveraged for business and mission-critical websites.  Such tools and software eliminate the need for manual website monitoring, and automatically detect important changes and updates and then alert business users and technology owners.
These tools can monitor for changes to content or code, routinely check on server performance and availability, detect possible website malware and viruses, and even monitor critical application features and functionalities to ensure everything is up-and-running without issue.
1. Website Change Detection & Content Monitoring
How many websites do you check on a daily basis? Every week? In many cases, you may be looking for something in particular — a brand mention, updates on a new or upcoming product, in-stock notices or a news story of particular interest to you or your company.
A number of tools are available to save you the time and legwork of manually visiting all of those websites that you have bookmarked.  These services can be setup to alert you when changes are made to a specific URL.  Some change monitoring software (like ChangeTower, our own website change monitor) even allows you to set specific criteria — be alerted when a keyword or phrase is added or removed, select line of code changes, or even if an image is added or removed.  
Such monitoring platforms are essential tools when it comes to competitive monitoring, brand monitoring ensuring proper content management system (CMS) functionality, establishing legal compliance and record keeping — and much more.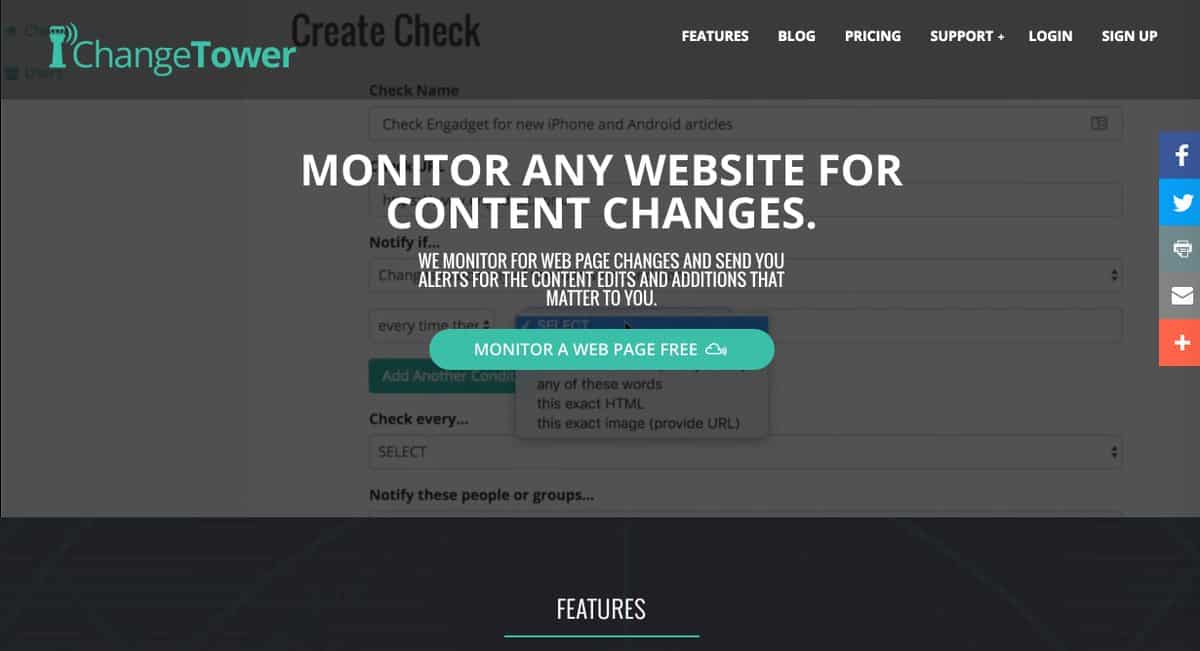 2. Server & Uptime Monitoring
There's a ton of great tools out there to regularly check your website for availability and alert you if your site goes down. Pingdom is perhaps the 800lb Gorilla in uptime monitoring, and provides a powerful platform that's free for basic use.
Pingdom 'hits' your website at regular intervals, and can alert you (and your team) the moment their systems detect that your website is unavailable.  You can be alerted to server outages or server performance issues right away by email or text.
For every website, maintaining a good uptime record is essential not just from a business and user experience perspective, but also for search engine optimization purposes. A frequently unavailable website won't perform well in search rankings, and may even disappear entirely from leading search engines like Google.  Most web hosts have a Service Level Agreement (SLA) guaranteeing a certain percentage of uptime. Make sure your web host is meeting their agreement.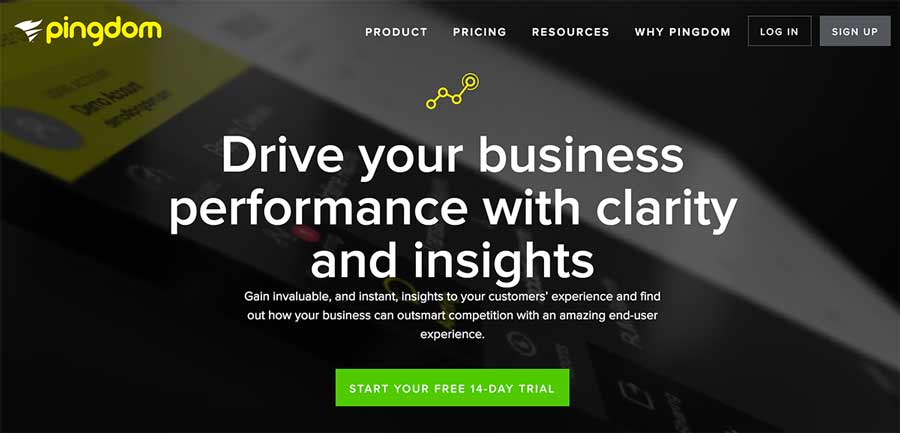 3. Performance Monitoring
A healthy website loads quickly and consistently, and page load time is a critical factor is general website visitor happiness and productivity. Your website's desktop and mobile load times also impacts search engine rankings.  As such, it's important to keep a watchful eye on the performance of your website or web application.
Free tools like Google Analytics keep track of the performance of your website's pages, and load time reports can help you identify various technical or load issues with your site. Google Analytics can also be configured to alert you if a page or set of pages drops below a preset average load time, keeping you in the loop on possible new or lingering issues.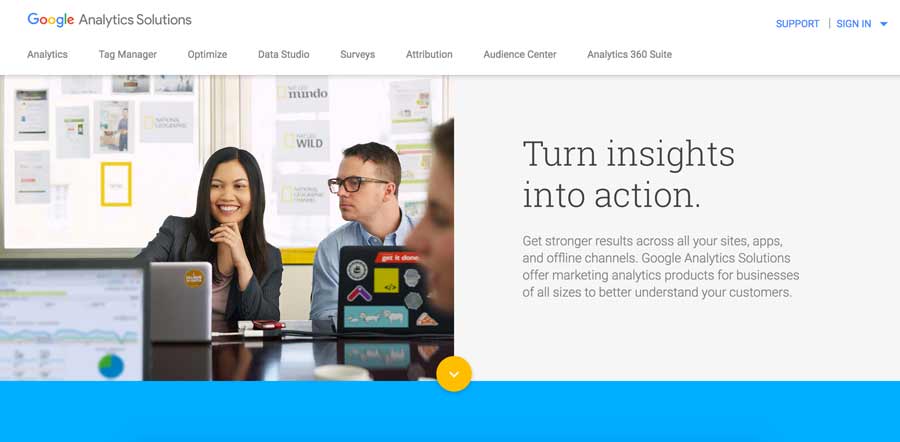 4. Load Testing
If you get (or are expecting to get) significant amounts of traffic, it's important to see how the number of users on your website at any given time may impact performance.  A technique called load testing allows you to simulate a specific numbers of users visiting and interacting with your website simultaneously.
Load Impact is one of the most powerful cloud-based load testing tools for your website or web app.  The best part of Load Impact is that you can record multiple realistic user scenarios (even logged in scenarios) with their Chrome extension with zero coding required.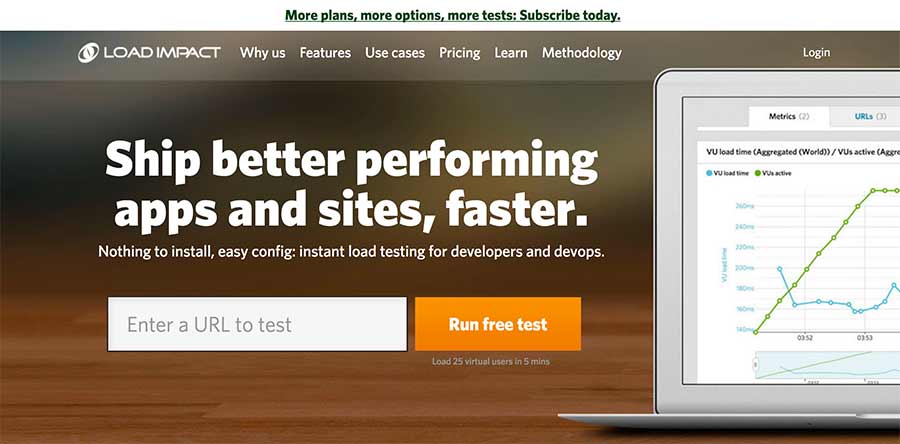 5. Application & Feature Monitors
No matter what kind of web application you have (even if just a relatively basic website with some degree of custom functionality), it's critical to make sure all of the most important features and functions of your app are 100% up-and-running.  Whether because a new release, code update, security issue or other scenario, critical functions of your app can go offline without your knowledge.  Often times, you'll only realize these functions are not working correctly after a user finally lets you know. Of course, a failing feature frustrates users and causes lost revenue.
There's a handful of of powerful tools out there to help you automate your application testing and regularly monitor key features and functions to ensure that they are running and completing without issue.  If you're looking for a powerful, dedicated transaction monitoring solution, also check out Uptrends. Pingdom's transaction monitoring capabilities combine the app's signature uptime monitoring alerts with the ability to create user-simulated tests that will then be repeated every 10 minutes automatically.  You'll be alerted if the transaction (any specified list of user steps) fails.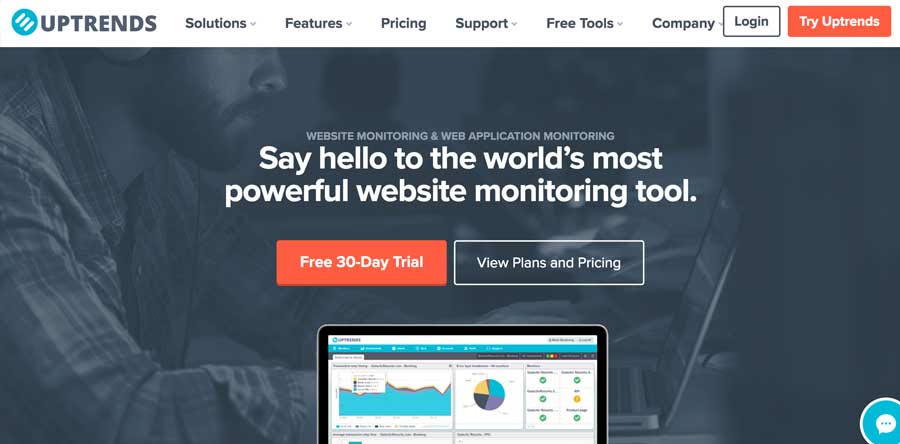 6. Malware Detection
While performance monitors may detect higher load times indicative of a possible malware infection, most of these tools don't proactively scan for malware and viruses that may be hiding in plain site on your website.
In its best form, malware may serve ads to your users unbeknownst to you. In its more malicious form, malware may be designed to infect your user's computers with viruses, systematically take over your website's content, or even steal sensitive user information.  Even a temporary case of malware can significantly impact your search rankings, and your website may even be temporarily (or permanently) removed from search results if the presence of potentially malicious malware is detected.
There's a number of tools and websites out there that can assist in the fight against malware, and routinely monitor your website to make sure that it's malware-free.  At ChangeTower and RSVPify, we use a service called Sucuri. Surcuri scans websites for malware, and send immediate alerts if malware is detected.  Depending on your CMS, Surcuri also offers a suite of proactive threat mitigation tools such as cloud-based DDOS (Denial of Service) detecting firewalls, database security tools, and plugin monitors (plugins can carry malware along with the functionality they offer).