While SEO (search engine optimization) includes a variety of different elements to deliver measurable results, one of the foundational pieces of a good SEO strategy is keyword research. Since keywords and phrases are the actual targets that connect potential visitors to your website, finding ways to ensure your site places as highly as possible for relevant search terms is the linchpin for all other elements of SEO strategy.
Before recent years, identifying important keywords and search terms was largely a result of guesswork and deductive reasoning. While there are always some obvious terms relevant to your business – such as website monitoring software for a company like ChangeTower – the truth is that many of the most popular and relevant search terms for any business are more unexpected than you may think.
So how do you begin performing keyword research and developing a keyword content strategy for your business? What kinds of SEO tools should you know about and utilize to develop a successful keyword research campaign, and then work with content creators and freelancers to optimize site content to target? Let's dive into three of the most important elements of SEO keyword strategy to know before you get started.
Know the different categories of keywords to target
While you may have some idea of search terms you would like to place for, good SEO keyword research is about casting as wide of a net as possible. The more relevant keywords you can identify, the more you can gain a clearer picture about both what your ideal customers or visitors are actually searching for, as well as who you are competing with for their clicks.
This goes beyond simply brainstorming a list of relevant keywords internally. In fact, many of the most important keywords for any business to target might be more unexpected than you may think. For example:
Relevant questions – consider how many times you have typed a query into Google, such as "What's the best auto mechanic in Chicago?". These types of questions are often used much more than simple search terms.
Parallel phrases – for a website monitoring platform, terms like "compliance monitoring" aren't directly tied to the function of the business. However, these terms are related to use cases, which make them equally useful for marketing and targeting purposes.
Long-form keywords – while a term like "auto mechanic Chicago" might be linked to dozens of different auto mechanics and their web presences, including big firms like Jiffy Lube, long-form keywords such as "lowest cost auto mechanic in Chicago" offer less competition and a good way to get a foot in the door for your SEO presence.
When you begin conducting SEO keyword research, you will want to include parameters that return results in all of those categories, as well as the most basic and common-sense keywords that you can think of yourself.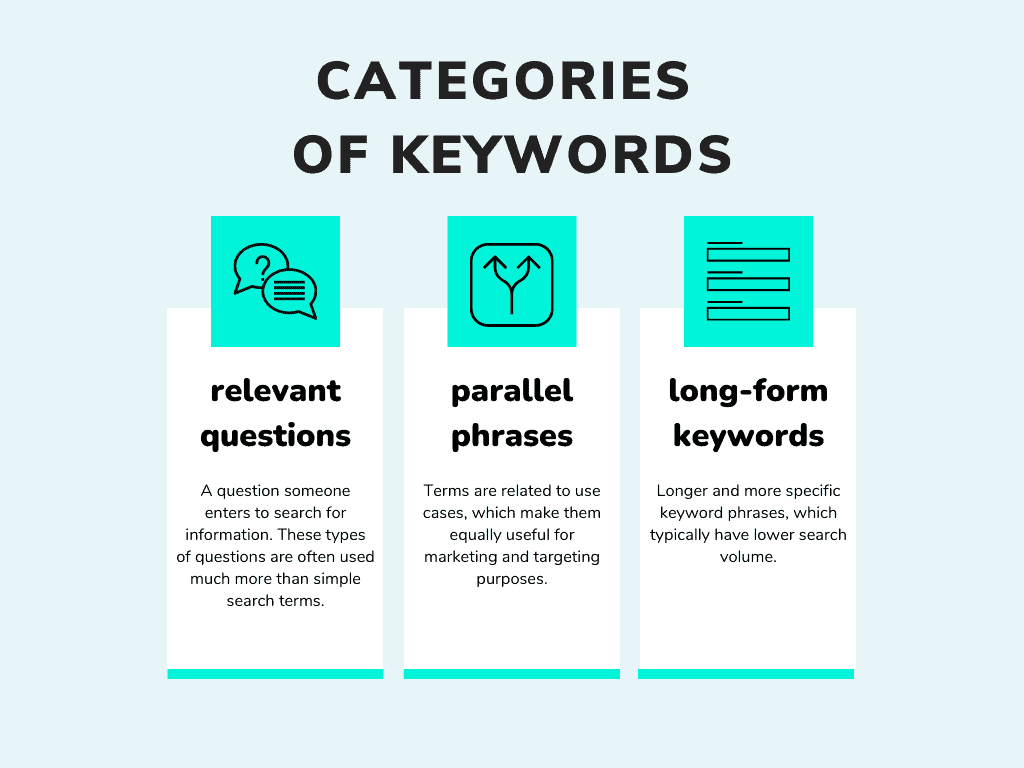 Find a good keyword research and broad SEO optimization tool
As SEO has exploded in importance over the past decade, there has been an equally great rise in the number of SEO research tools available to anyone. While some SEO tools are free, most offer important features behind monthly or annual paywalls that may require a financial commitment from your firm. So what do you need to look for in a good SEO software platform?
Keyword Explorers – these tools allow you to enter some basic keywords you'd like to place for that you know you want to target (for example, "auto mechanic Chicago" if you run an auto shop in Chicago). A keyword explorer will not only generate data around that term, but also provide you with relevant long-tail keywords, variations of the term, and relevant questions to help you build a broader list of keywords for your content development.
Backlink tools – while this is a bit separate from keyword research, backlinks are another crucial driver of Google search algorithms. The best SEO tools will pair keyword software with backlink data tools, which can help you identify the best-performing links from other website to yours, as well as potential areas of partnership and new link opportunities.
Site auditing tools – we mentioned this in a previous SEO 101 post, but a comprehensive site audit can give you a real-time and accurate picture of all of the SEO strengths and weaknesses of your website. A site audit tool is another crucial element you'll want in your SEO research platform.
There are a variety of other tools that come loaded with premium SEO software packages, but these three elements are must-haves when figuring out the right tool for your needs.
Analyze your competitors' SEO keyword rankings
Once you have chosen the best SEO tool for your needs, and performed an initial keyword search to develop an introductory list of potential keywords to target, the final important initial step is to consider competitor data. Most good SEO tools will not only return relevant keywords and their search volume to you during a query, but will also allow you to identify competitors before you run your query to return their performance data for the same search terms.
Why is this competitor data so important?
You can weed out high-competition keywords that are hard to place for – going back to the auto mechanic example, trying to generate content to place highly for "auto mechanic" may be a waste of time if your site has no SEO footprint. By checking the level of Keyword Difficulty (KD), you can avoid wasting time chasing keywords that already have tons of competition and narrow your content strategy around easier-to-place terms instead (especially long-tail variations of these high volume search terms).
You can identify competitor strengths and weaknesses – similarly, instead of trying to chase the same terms that your competitors may already have established their SEO footprints toward, you can find important keywords that competitors have not targeted or are ranking badly for. This can let you get a head start on your competition before devoting resources to going head to head with them for others.
You can learn more about your competitors' SEO strategy – by noticing groups of related search terms that a competitor is placing consistently for, you can also deduce what a competitor may be devoting resources toward implicitly. This is valuable business intelligence that can further guide your own content development strategy.