Compliance Monitoring: Leveraging Online Tools to Ensure Compliance in Regulated Industries
Compliance departments are beginning to turn to website monitoring and archival tools to help bolster their compliance monitoring efforts as it's become increasingly difficult for these firms to remain compliant with industry regulations in recent years. Firms operating in highly regulated / legacy industries suddenly find themselves more vulnerable than ever to fines and penalties from regulators.
Deeper and broader constraints in these regulated industries, coupled with the incredible rise of digital marketing and online messaging avenues, Compliance Departments are scrambling to implement processes and procedures to help limit their exposure. 
Agent & Affiliate Networks Can Compound Compliance Problems
---
The risk of being held legally and financially responsible is especially problematic for regulated firms that rely on agency affiliates or advisor networks to promote and/or sell its services. Why? Well, regulations in these industries stipulate that any / all communications (electronic or otherwise) are considered to be advertising, and thus must be approved by the parent organization to ensure that its offerings are not being misrepresented.
While this would be fairly burdensome for a compliance department if the organization controlled and operated all of the communications produced by internal teams, it becomes an absolute nightmare when a parent organization is unable to control the content being produced by its agents and affiliates.
FINRA 2210: Unintended Consequences Lead to Increased Risk Exposure   
---
Consider the wealth management industry as an example. In this industry, it's commonplace for wirehouses or Broker-Dealers to have vast networks of Financial Advisors. While it may not be immediately apparent to retail investors, these small time and seemingly independent Financial Advisor are actually licensed affiliates advising clients on which of its Broker Dealer (or Wire-House) products to purchase.
This means that any / all website changes (no matter how big or small), blog posts, or even social media posts on an advisor's personal account are considered to be advertising, and by law, must be pre-approved by the parent organization's Compliance Department before publication.
As Michael Kitces describes, as it's become increasingly important that Financial Advisors work to create and maintain a digital presence (e.g. websites, blog posts, and social media), the burden on these Compliance Departments has compounded. This has created an unintended ripple effect, as Compliance Officers, in an effort to reduce their risk exposure, have resorted to implementing overly strict approval guidelines and/or lengthy approval timelines.
Their intention was, of course, to reduce their liability by not approving / rejecting all requests, but the reality is that it may have done just the opposite. Advisors, agents, and/or re-sellers operating semi-independently of these highly regulated financial organizations have become frustrated by the strict criteria and/or lengthy approval process for the smallest or most immaterial of content changes.
In the end, the challenges of overseeing such a large number of advisors in the broker-dealer environment have unfortunately squelched the ability of a lot of brokers to engage in blogging, but it's not because they can't, or that FINRA won't allow it. Rather, it's because broker-dealer compliance departments are struggling to oversee a huge number of brokers that they don't necessarily know, while the more limited span of oversight at RIAs makes it easier to expedite the process! –  Michael Kitces
The result: agents, advisors, and marketing affiliates are opting out of the painful / lengthy approval process which they believe to be unnecessary. Consequently, firms in the financial services sector are suddenly (and unknowingly) exposed to a great deal of risk. Given that they're legally and financially liable for the vast amount of content that's being produced without their knowledge and over which they have zero control, the consequences can be severe.
Website Archiving Tools & Change Monitors Mitigate Compliance Risk in Regulated Industries
---
As one might imagine, firms in these industries are suddenly finding themselves very exposed. Not only do they not have any control over the content being produced for which they're liable, but they're not even aware if / when / and what is being released to the public.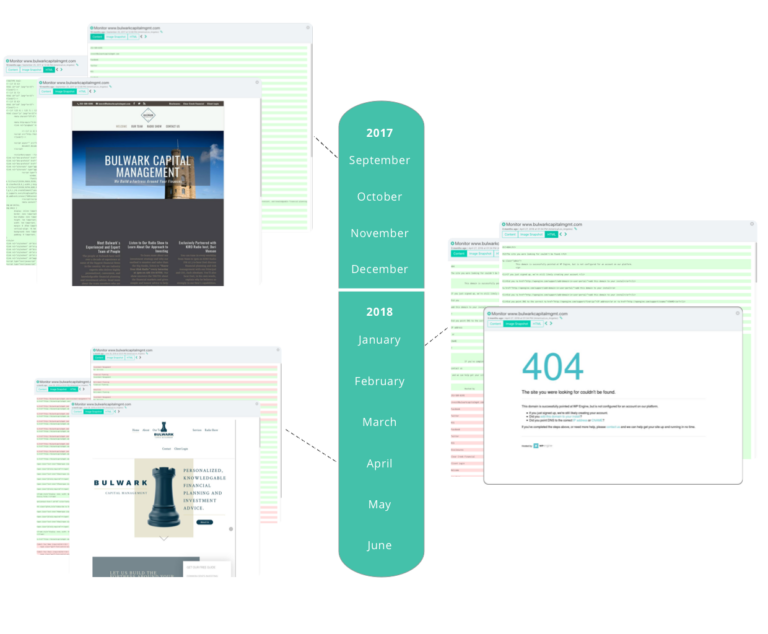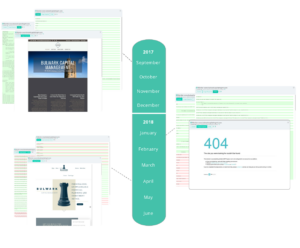 While historically firms have either taken the "ignorance is bliss" approach and/or drastically increased their Compliance Departments' headcount in an effort to try to manually stay on top of the content being produced by their affiliates, others are seeking an automated means of helping to alert them of unauthorized changes.
Enter website monitoring and historical archiving platforms. These typically cloud-based archiving services take snapshots of websites at a regular cadence and allow subscribers and compliance officers to easily pinpoint how a given webpage looked at a point in time, and see how the same page has changed. Some website archiving tools also track changes to content and code.