Tracking website changes to receive alerts when new Calendly appointments become available
ChangeTower can help you track website changes and notify you when there are updates to Calendly appointments
Teams and individuals worldwide use Calendly to help them with appointment scheduling without the hassle of juggling their calendars and conflicting meetings. With features like automated reminders and routing forms, it's no surprise that it's considered one of the best scheduling apps on the market. For high-demand meetings and appointments, some clients and teams (or even individuals) want to be among the first ones to be notified of the newly added appointments and meetings, so that they can reserve their spots before the capacity is reached. That's why some folks opt to use a website monitoring solution – to track website changes to Calendly URL(s) and then receive alerts when a new appointment has been added to that monitored URL.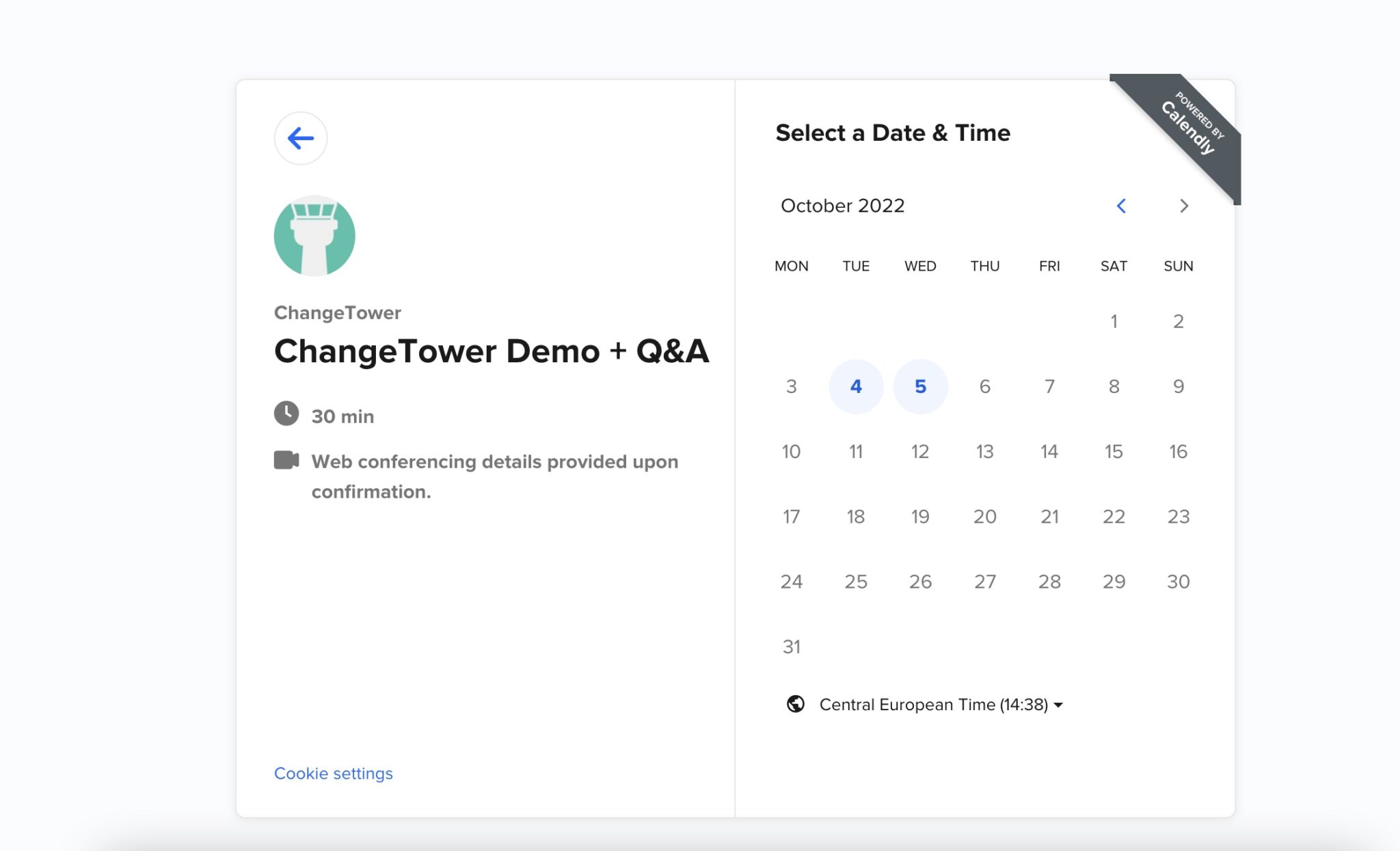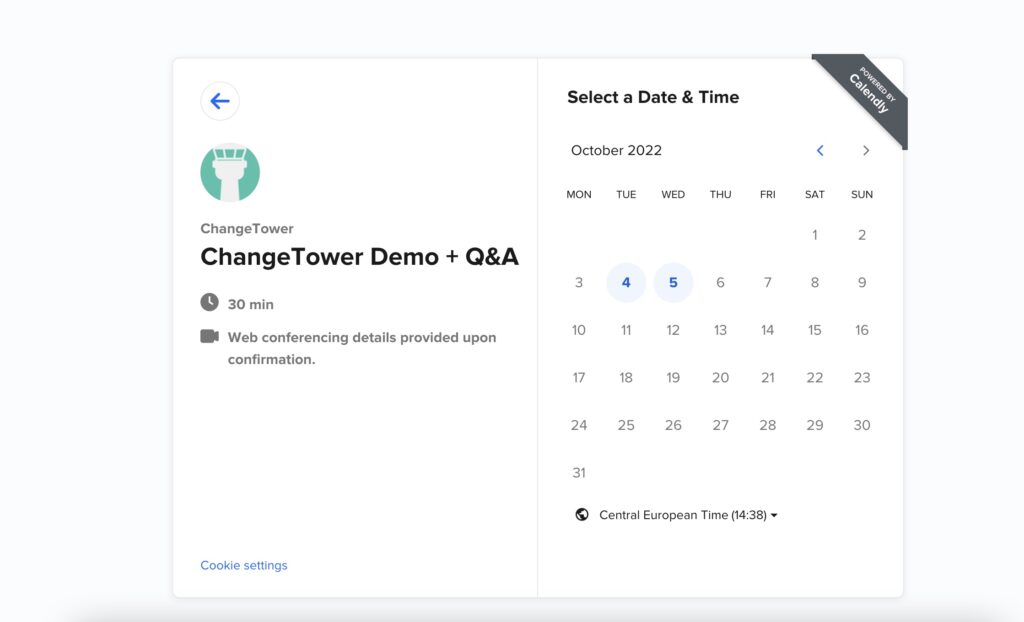 How can I track website changes using ChangeTower?
Calendly appointments (or meetings) are "hosted" on a link. Copy the Calendly link and then head over to ChangeTower to create a monitor.
During the monitor creation, you will need to select the monitor type. ChangeTower's Visual Monitoring Tool is useful here. It allows you to monitor the sub-section of the page that you know will change when new appointments are released.
Paste the Calendly link into ChangeTower
If needed, use ChangeTower's manual actions to access the part of the page you want to monitor
Set your notification criteria – we recommend you only monitor the area that you know will change when new appointments are added. This will prevent you from getting false notifications if there are updates to the rest of the monitored page.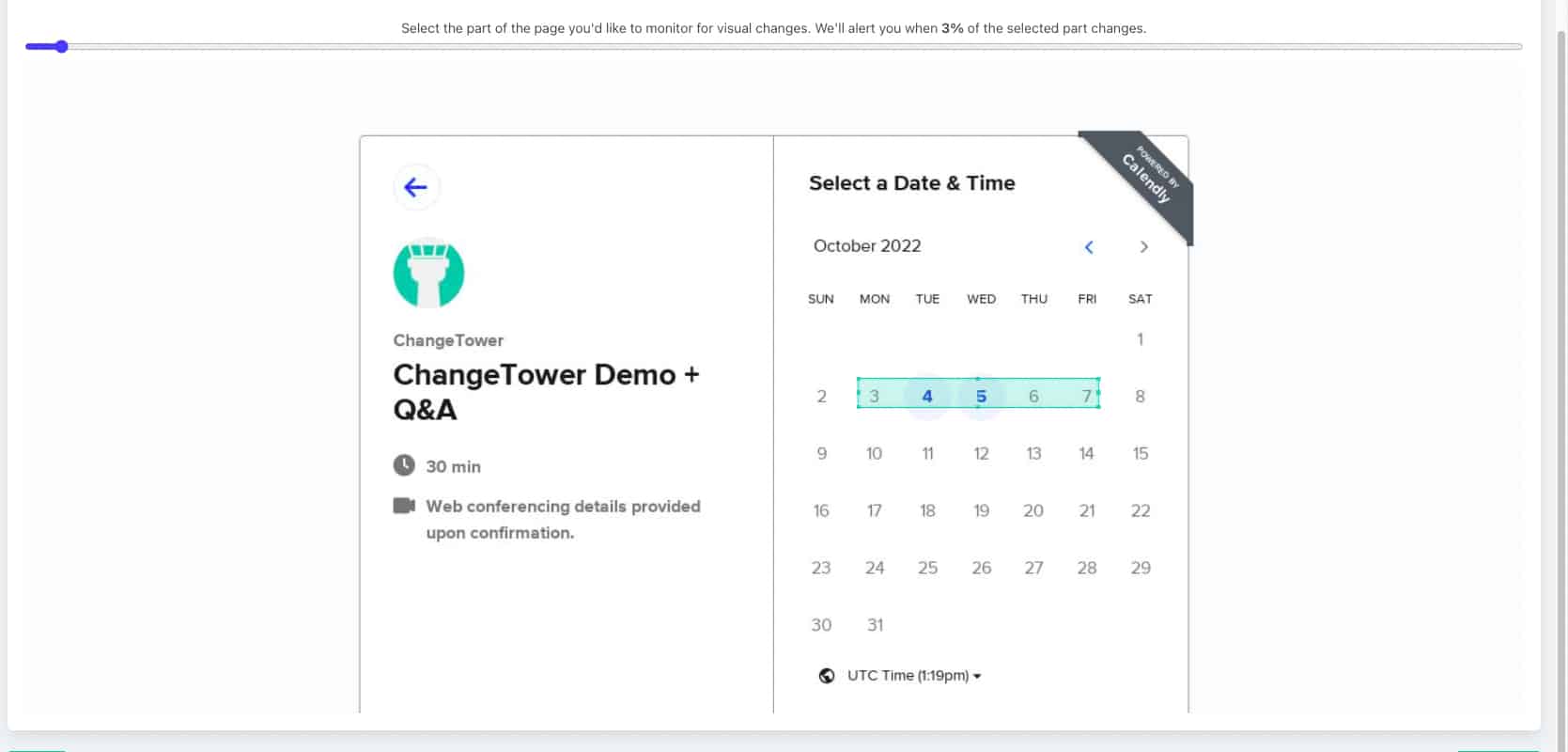 Select monitoring frequency – our engines will crawl the page at the cadence you set and compare the previous version with the current version. If there is a mismatch between the versions, the system will alert you of the changes on the website. However, if the monitoring frequency is high (i.e the page is checked every 5 minutes), Calendly might detect and block the traffic coming from ChangeTower.
Set the monitor name and/or tags and opt to receive email notifications when there is a change. If you are using our ChangeTower iOS app, you can also set your device to receive push notifications from ChangeTower.