Top Tools for SEO Professionals
SEO, or search engine optimization, has quietly become one of the most essential and powerful tools for promoting a brand or website that has an immediate ROI given that it's far more cost effective than SEM and/or other paid social media campaigns (though in practice, both SEO + SEM are core part of digital marketing strategies). Encompassing a variety of techniques and strategies to properly adhere / cater to Search Engines' (perpetually evolving) algorithms, is in many ways a work in progress – especially given that small changes in Google algorithms can upend "tried and true" SEO methods and force even the savviest SEO professional to innovate.
However, even though SEO is constantly shifting and requires a bit of a learning curve for a beginner to master, various studies show that most everyday Internet users never make it past the first five results in any given Google search – and companies that own keyword rankings for a particular topic have a significant leg up on competitors that can't be dislodged simply by throwing money at advertising and marketing campaigns.
But what are the top tools for SEO professionals? How do SEO professionals perform keyword research and develop content and linking strategies to dominate the search terms in their particular market vertical? What tools can allow you to track the ways your competitors are implementing their own SEO strategies? Here are four of the most trusted and widely adopted SEO tools that the pros use, and that you should consider leveraging to help grow your own brand and reach more potential client and customer leads.
Ahrefs
---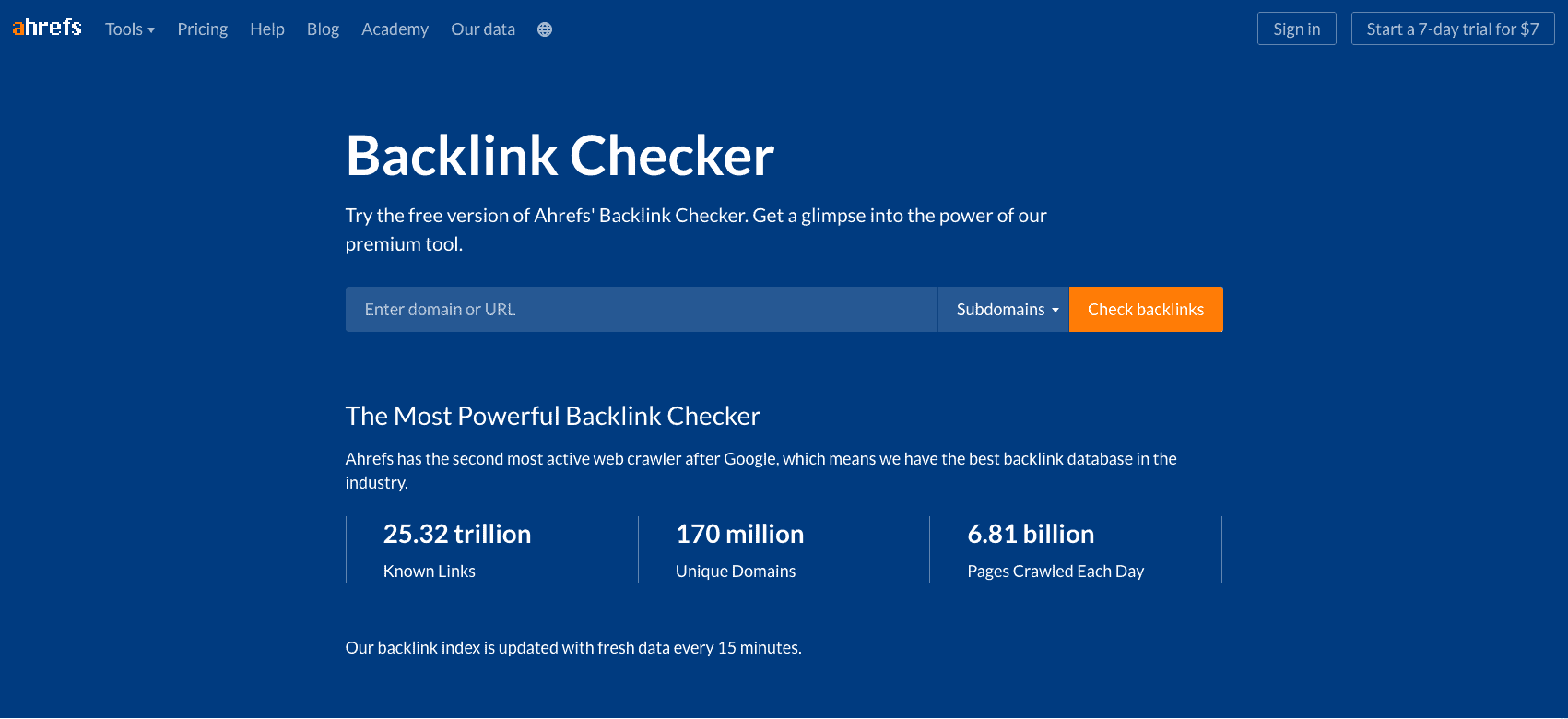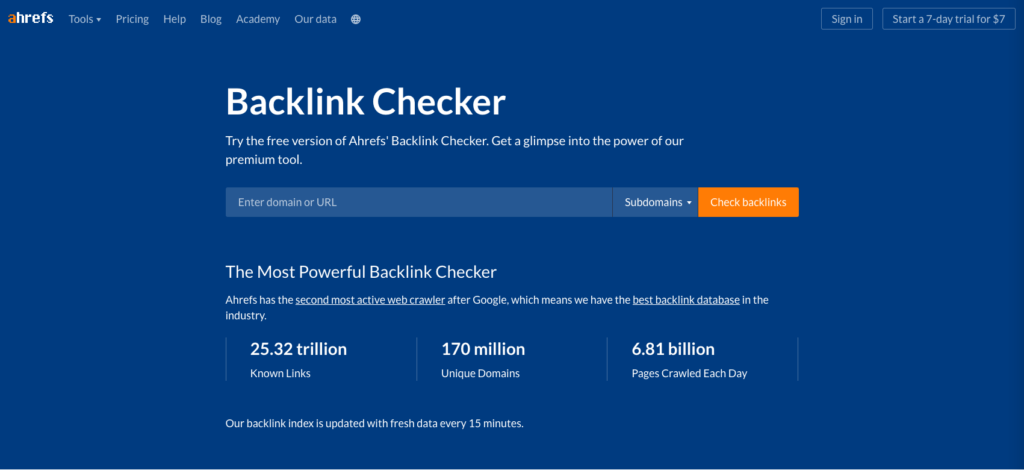 While there are new keyword research and SEO measuring dashboards emerging by the month, the current gold standard among SEO pros is Ahrefs. While Ahrefs was not the first comprehensive SEO measuring and strategy implementation platform, it has risen above similar tools like RankTracker and Cyfe because of the wide array of analytics tools it provides. Some of the most useful for SEO profs include:
Backlink management

– Any SEO professional worth their salt will tell you that quality backlinks from reputable and well branded websites can drive your site quickly to the top of Google search results. Ahrefs provides a tool for tracking the status of existing links, identifying new opportunities for farming out quality links, and the ability to track the links of your competitors.

Competition metrics –

Speaking of competition, Ahrefs has gained particular praise for the ability to

monitor competitor websites

to see how you stand against them in various SEO fields. This provides both SEO consultants and business owners valuable insights into competitor strategy, and can make your planning that much more efficient.

Keyword planning –

The other essential pillar of Ahrefs is keyword tracking and planning tools. Ahrefs can not only help you track your website's placement for important keywords and phrases in real-time, but can even let you find relevant keywords you might not have thought of, and to build out a robust keyword measuring strategy that can ensure every piece of content you create delivers positive results for overall SEO
Yoast   
---
Once SEO professionals have proven data that identifies essential keywords for targeting, the next step is to generate landing page and blog content that helps your website attract Google's attention. However, content can't just include keyword stuffing, which is the main mistake many SEO newbies make – in fact, Google's algorithms have been proven to recognize quality and reputable content, and that means your content needs to be keyword optimized and truly useful for visitors.
But how do you strike a balance between the two? Enter Yoast, a popular WordPress plugin that allows you to measure your content for SEO efficiency as you create it. Once you install the Yoast plugin into your WordPress dashboard, it offers a few essential features for content writers to review as they write, including:
Keyword placement metrics –

From measuring the density of a target keyword in the copy being created, to ensuring that you edit headers and meta tags and descriptions for maximum visibility for Google algorithms, this is perhaps the most important feature of Yoast.

Readability analysis –

Overly complex and overly simplistic content is often flagged by Google as being unreputable or not what users want to see. While this may hurt the heart of writers and editors, Yoast can help writers ensure that grammar and word usage are geared toward the broad array of visitors, and thus help content place.
SEO Page Monitors
---
While these previous tools are largely geared toward providing SEO professionals information for developing a content and keyword strategy, a powerful website monitoring tool like ChangeTower offers the ability to stay on top of competitors and notify you about changes as they happen. ChangeTower works as a perfect complement to a tool like Ahrefs, offering a few additional features that can even better streamline your SEO initiatives. Some of the most useful features include:
ChangeTower can provide notifications and updates on competitor content changes and new keyword initiatives by automatically crawling those sites on a set schedule 

ChangeTower can also provide real-time notifications when changes happen, and help you see the direction a competitor is taking their content with time to develop your own content to keep your positions in Google results

ChangeTower also offers the ability to target specific sections of a website, allowing you to target specific pages (like a blog) or even specific sections that are ranking competitively in Google.
ClearScope
---
For SEO professionals and website owners looking for an alternative to Yoast for sites that don't incorporate WordPress, an emerging and useful option is ClearScope. While ClearScope offers many similar tools to Yoast, and can function similarly in letting you optimize and edit content as it is written, ClearScope also has a few unique benefits of its own that have led to rapid adoption among SEO pros over the past few years. Some of these unique benefits include:
ClearScope combines techniques of both Ahrefs and Yoast to deliver a list of suggested keywords to include in copy, saving SEO pros a step of analyzing keyword research and then figuring out a target list themselves.

As noted above, ClearScope simply asks you to plug in your content as you edit, which can then be copied and pasted into any content dashboard your site may use. Aside from providing an alternative for non WordPress site, this also lets you bring on copywriting freelancers without giving back-end access to your site, preserving security and privacy.

ClearScope also delivers an easy "grade" on an A-F scale that combines readability, keyword targeting, and linking metrics into a single metric. This is especially useful for novices to SEO who don't have the time or resources to learn about the different metrics and how to optimize content for them but need to advance their keyword ranking quickly.