ChangeTower Launches Partial-Page Website Monitoring
We're excited to announce that ChangeTower users can now monitor specific sub-sections of web pages with our new partial-page monitoring tools and visual change detection engine. Our users will now be able to utilize the full power of the ChangeTower engine to monitor specific sub-sections of web pages for a user-selectable degree of change. 
This popularly-requested feature will be rolling out to all ChangeTower users over the course of the coming hours — and will help bring ChangeTower's website monitoring capabilities to the next level.
Benefits of Website Partial Page Monitoring
So, what's the big deal? Well previously when users were setting up their monitors for a specific page (e.g. notify me if >5% of the page changes), they might get notifications when non-material changes were to occur (e.g. changes to the company's menu bar,  new advertisements, etc.).
Take for instance the use case in which a Brand Manager at P&G wants to monitor the price of Tide Laundry detergent on Amazon's website. Prior to the release of visual page monitoring, the BM wasn't able to only monitor their product's price for changes and would instead be inundated with irrelevant changes. With that note, we thought it might be helpful were we to highlight a few new use cases that are now possible given the power of ChangeTower's new Visual Monitoring Tool.

Real Estate: Monitor Property Status Changes
Whether you're a real estate professional working with a client who has their heart set on buying their dream home if it were to go up for sale (or if a pending transaction were to fall through), ChangeTower's visual monitoring tool empowers you get notified the moment that property's status gets updated: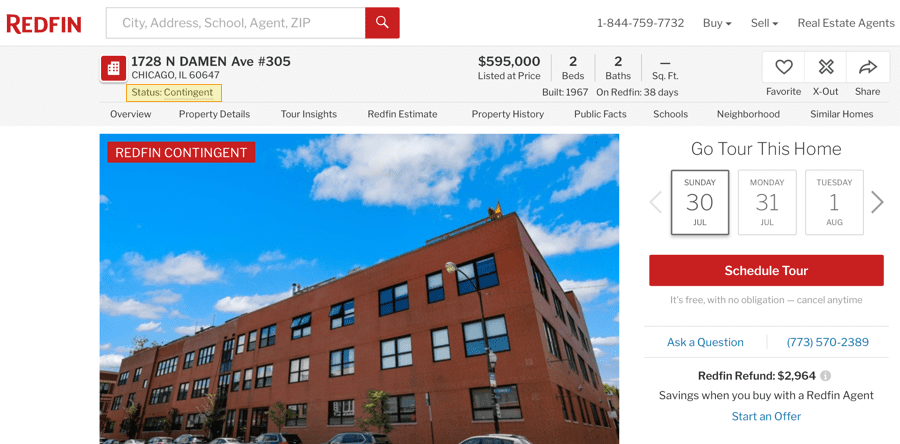 Price Changes: Monitor Price Changes on Amazon.com
One of the new use cases that we're most excited about being able to accommodate is the ability to monitor prices of specific products on e-commerce sites like a Walmart.com or Amazon.com.
Prior to partial page monitoring, this was a particularly challenging and frustrating experience as e-commerce sites are constantly in a state of flux which made it very difficult for users to receive notifications of changes that were relevant to what they were attempting to monitor. Now Brand Managers and/or Product Owners can monitor their product's price across their network of online retailers as well as their competitors to ensure they're able to adjust their pricing to remain competitive:

News Alerts: Monitor Industry and Company Sites for New Press Releases
One of ChangeTower's most common use cases since its inception has been a means for users to monitor specific company, industry, and/or news sites for new articles or press releases. Whether it be investment analysts looking to get an edge, company's monitoring the progress of their competitors, or market research firms looking to bolster their client offerings, ChangeTower has always been a go-to platform for those wanting to stay a step ahead.
While users would simply set up their monitors using the % change metric, this would take some guessing and checking to ensure you chose a threshold for a specific site that would 1) notify you whenever there was a new post / press release but also 2) didn't notify you when something insignificant happened (e.g. new menu items, updates to the site's footer, change in advertisements, etc.).
With ChangeTower's visual website monitoring capabilities, users can simply highlight the site's most recent release (be sure to sort the news by publication date!) and choose to be notified when that section of the page changes – i.e. when a new publication is released and moves the now second most recent publication down the page: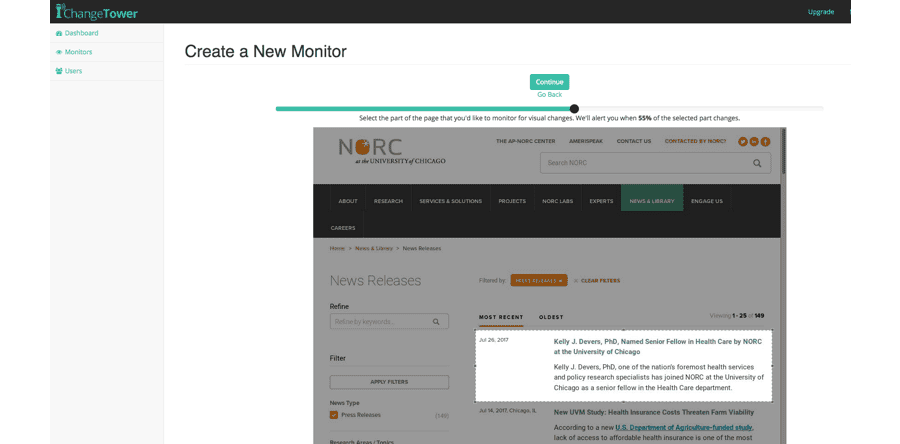 Ticket Prices: Monitor Airfare for Upcoming Trips or Dream Vacations
A lot of people procrastinate on booking flights but it's always nice to at least know if / when prices are moving so that you aren't caught off guard when it finally comes to booking. The partial page monitoring tool enables you to enter the URL of your precise search criteria / results and monitor the price of whichever flight option you're most interested in:

Job Postings: Monitor New Job Listings that Meet your Criteria
Similar to monitoring flight options / pricing, you can enter your search results on job listing pages (be sure to sort by Date!) to receive notifications when there is a new posting that meets your criteria. This was a commonly requested feature from headhunters and job seekers!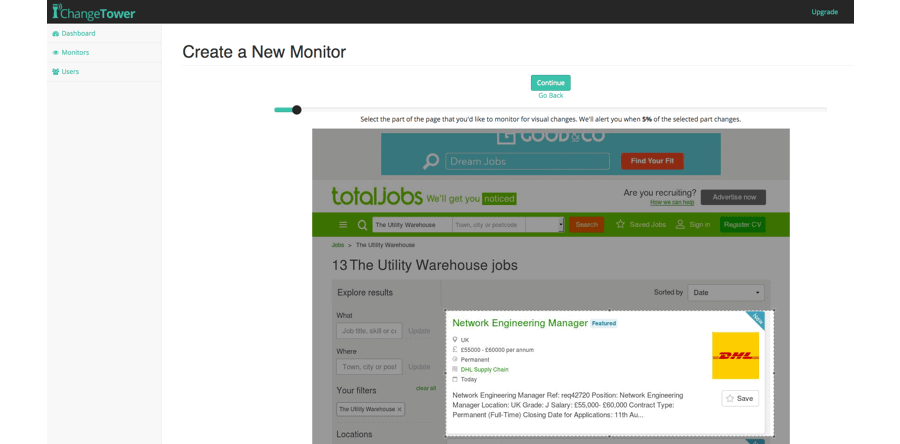 Online Ad Sales: Monitor Ads on Your Site
We received several requests from users who use third party ad-generating tools to display ads sold on their suite of web URLs. While those tools can be very helpful in managing your online ad sales, you still need to monitor them to Such tools and software eliminate the need for manual website monitoring, and automatically detect important changes and updates and then alert business users and technology owners.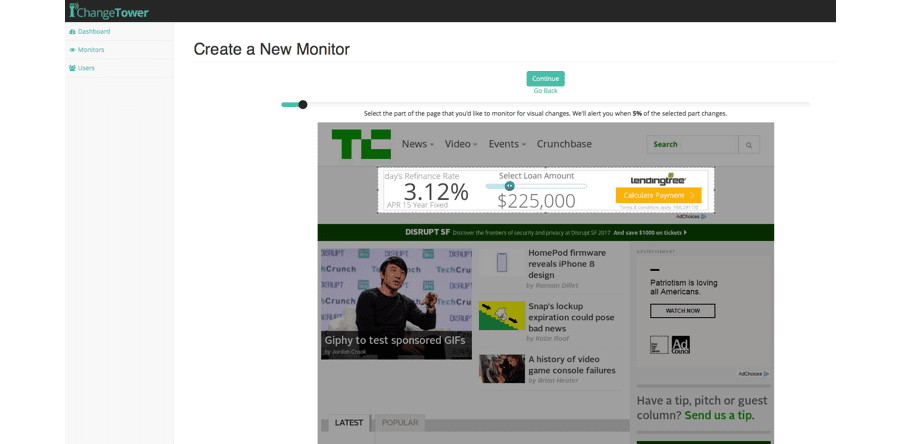 Feedback for us?
User feedback is the best way that we know to learn, grow and evolve. Have a feature you want to see? Want to see improved capabilities in an existing tool or feature? Let us know!